Are you considering epoxy basement flooring for your new or existing home? Owning a basement can mean extra space for the family to relax and have fun… but you want it to look its best and be an extension of your upstairs home as well. Epoxy Basement flooring often makes people think of a flooring option that goes on top of your regular concrete floor. The installation is relatively simple in terms of application, but it takes a team of professionals to get the epoxy coating level across the basement surface area you are looking to cover.
Epoxy is often the material of choice for residential basements because it's incredibly smooth, and durable. It's not slippery like wood laminate or ceramic tile flooring would be. In fact, epoxy floors can have an anti-slipping agent added to the epoxy resin for overall safety and extra grip.
In terms of colour options, we can create an epoxy floor similar to ice hockey areas, or embed your favorite Sports logos. You can even have your family crest in the center of your new flooring project. Epoxy is a great choice for your basement floors because it offers true durability and protection from spills and even harsh chemicals.
Plus, it's nearly indestructible, so you don't have to worry about dents, cracks, or appearance as much as you would with just concrete! We can add any metallic flakes or choose a different shade that matches your home's aesthetics better than you can match it with other flooring choices.
Overall, an epoxy basement floor is great for the style of your home. Turn your lower space into a complete show room or use it for recreation or a workshop. The benefits of an epoxy flooring solution is something every homeowner should consider because it has so many different applications.
1. Prevents Moisture from Seeping In
Basements are notorious for dampness because they are located below the ground level of your home. Some of the moisture will likely come through the flooring, but you can prevent that with epoxy floor coatings.
Some people argue that concrete can be seepage-resistant by using waterproofing sealers. This is true, but you'll have to reapply the mixture periodically, and it might not be as waterproof if the concrete has had exposure to other chemical spills or contaminants. However, epoxy will form a harder, plastic-like film; that water cannot penetrate.
Before jumping for joy, it's important to understand that waterproofing the floor only protects the top of the floor. It won't solve all of your moisture issues, since water could come in through your walls and around egress windows. However, it's a great start, and most people find that the flooring is what can really make the difference in water resistance.
2. Very Easy to Clean
Did you know that epoxy is one of the easiest flooring options to clean? You simply sweep it occasionally with a light mop and you are done. If you notice some marks or scuffs, you can use mild soap and water to remove them, and most people have no issues with stains because the material isn't porous.
In our experience, the process of using epoxies both keeps the floor's beauty and keeps dust and other substances off of your new floor.
3. Incredibly Durable
Epoxy flooring is highly durable. In high-traffic areas, such as commercial or industrial properties, the floor can withstand many years of heavy usage. However, a residential basement will see a lot less traffic, so the lifespan could be up to 20 years, with 15 years as the most common. Proper maintenance helps to reduce dirt and other elements from building-up.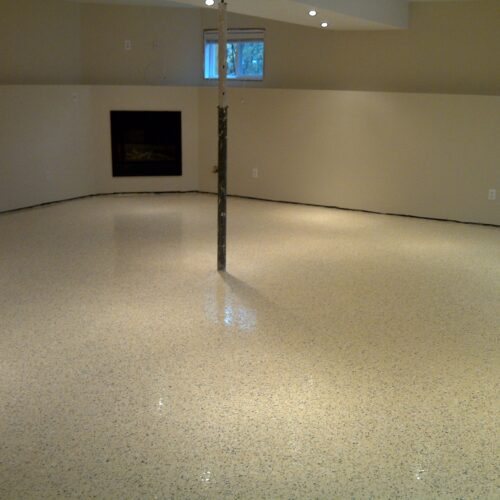 Overall, epoxy coatings are common on garage floors as well, because they don't chip and crack and can resist impact from heavy objects. Plus, there are fewer scratches, so you can drag around appliances and even furniture without fear of scratches. I wouldn't want to try that with any hardwood flooring!
4. Resistant to Mould
Basements are often cooler and have poor ventilation. Therefore, condensation can collect and lead to mould growth over time. However, the mould spores must take root to grow, and epoxy won't give it the chance because it's nonporous and mould resistant.
Homeowners should be aware that mould could grow under the rugs.So, If you have them in your basement, it's wise to remove them periodically and let them dry out thoroughly.
5. Easy to Install with the Right Professional
Many homeowners think that epoxy is easy to install because you simply roll the epoxy paint on to the floor and you are done. However, there's much more to it than that, and the fumes could be dangerous if you don't know how to handle this job unless you have done it before.
A professional will patch the large holes and cracks in your floor first, with cement and then level the concrete completely with professional grinding machines. If you have concrete currently, you must etch it to create a rough surface for the epoxy to "grab" and adhere to it. Then, we paint the epoxy on the floor after mixing the resins and additives correctly.
In order to get a flawlessly smooth surface that is 100% level, and dries perfectly, takes decades of experience.
6. Looks Great and Can Be a "Green" Choice
Most companies use two-part epoxy, which includes a resin and hardener. Though the liquid form of the resin can produce some noxious and toxic fumes, the hardener prevents them from seeping into the air. Therefore, epoxy manufacturers can claim it as "almost non-toxic."
Professionals know exactly how to protect themselves and your home. They wear respirators so that they don't inhale the fumes and ask homeowners to turn off the HVAC system and open the windows. Once it's all cured, everyone is safe!
Likewise, epoxy is eco-friendly because it doesn't clog up landfills. You don't have to remove it or toss it in the trash like you would with laminates and vinyl tiles.
Everyone gets excited about the green factor that epoxy offers. However, it also looks great in any setting. The finish is shiny and smooth, so it can brighten up a dingy-looking basement. Plus, the product comes in various hues, so you can match it to the rest of your décor. Many homeowners paint patterns on the floor using two or more colours to make things interesting! You can view our gallery page for examples of our work and past jobs.
Where to Find Contractors to Handle Epoxy Flooring in Canada
Most people have heard of epoxy but aren't truly familiar with it. However, if you live in Canada and want to make life easier for you, it's best to consider epoxy flooring for your basement. You'll find that it protects the floor, reduces the risk of stains and scratches, and will last for a long time.
Where do you find a professional to help you? Canadian Concrete Surfaces is an excellent choice. We use the best resins and epoxy products and are dedicated to protecting your home from damage while ensuring get a perfect epoxy floor. Call 1 (888) 618-0902 or Contact us to get started on your epoxy basement flooring today!
Devon has over 25 years of experience providing customers with high performance epoxy flooring to fit any need or budget. Referrals are our best friend and customer satisfaction is always our top priority. When Devon is not working you can find him fishing, or hunting across North America.