If you're looking for a low maintenance flooring material, polished concrete floors may be the best option for you and your business. Its high-gloss finish is beautiful. Also, it offers excellent durability and long-term performance.
However, before joining the group of business and residential property owners who are giving in to the appeal of polished concrete flooring, you should consider several things about this material.
Let's start with understanding What Polished Concrete Is…? Essentially, polished concrete is a material that goes through a multi-step polishing process where the surface is mechanically ground to the desired shine and smoothness degree. A chemical hardener and heavy equipment is also used to achieve these results, with finishes similar to epoxy.
Where Can You Use Polished Concrete Flooring?
You can use polished concrete in different locations, including industrial facilities, residential properties, or areas with heavy foot traffic. However, these are the most common:
Retail stores

Large warehouses

Warehouse outlets

Hotels and restaurants

Private residential properties

Auto showrooms
Why Use Polished Concrete Flooring?
Many people want to have polished concrete floor surfaces in their residential or commercial spaces because of the benefits they offer. Actually, decorative concrete is considered the most popular option for polished flooring because it looks good aesthetically but adds value in many other ways.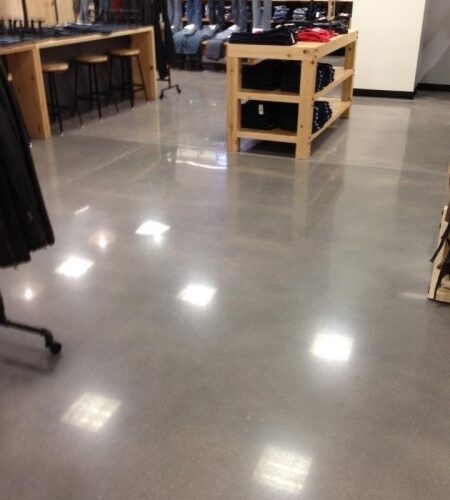 Let's go over the benefits of polished concrete flooring according to its industrial applications.
Benefits of Residential Polished Concrete Floors
These are the advantages that homeowners and business owners alike can enjoy if they choose polished concrete floors of their spaces:
Cost savings

: Contractors won't need floor covering materials if they use the slab on grade as the finished surface, so you'll likely save.

Easy maintenance

: Cleaning polished concrete floors is so easy. Furthermore, they don't accumulate dirt and allergens.

Multiple options

: Polished concrete flooring is often available in multiple colours and designs, so you can choose an option that matches your property's décor.

Damage resistance

: Polished floors are more resistant to damage than other materials and don't need to be replaced too often, so they have a longer life cycle.
Benefits of Industrial Polished Concrete Floors
Commercial property owners can also enjoy many benefits by choosing polished concrete floor surfaces for an industrial or retail space, including the following:
More resistance to heavy foot traffic

: This type of flooring isn't vulnerable to quick wear and tear, as it'll last a long time, even in areas with heavy foot traffic. Actually, you can save on maintenance and replacement costs.

Cost savings

: You might also save if contractors use the slab on grade as the finished surface because these floors require less maintenance and are cost-effective.

Easy Cleaning

: Polished floors are so easy to clean that you'll only need to use a damp mop occasionally. Also, messy waxes and coatings aren't required.

Longer service life

: Polished concrete has a glossy surface that resists marks caused by tires and stains from product spills, making it highly durable.

Resistance to moisture transmission issues

: Thanks to the characteristics of this material, polished concrete surfaces can breathe, eliminating the common and bothersome issues that affect sealed concrete flooring materials.

Sustainability

: Since this type of flooring doesn't require dangerous cleaners, adhesives, or coatings, they're a sustainable alternative for these surfaces.

High light reflectivity

: If you want to maintain a clean and professional business image, polished concrete flooring may be for you due to its highly reflective finish.

Energy cost savings

: Since spaces with polished concrete floors don't require too much artificial light, you can save on energy costs.
Can All Concrete Floors Be Polished?
Overall, all concrete flooring types can be polished as long as it has a sound structure. However, it's essential to consider the following:
If you want to polish a new floor, it should be in place for at least 28 days before the concrete polishing process begins.

Before you start to polish an existing concrete floor, the surface may need preparation. This process should include the removal of dirt, grease, blemishes, and coatings.

Wavy floors may need extensive patching before the polishing process.

If the floor is too porous, it could be a poor candidate for polishing.

To evaluate the floor's suitability for the polishing process, you need help from an experienced contractor.
How Much Does Polished Concrete Cost?
Polished concrete costs vary based on different factors, such as surface preparation needs, the project's complexity, the property's location, and the square footage.
However, most property owners pay between $5 and $12 per square foot. It's important to know that prices for residential spaces may be higher because epoxy contractors would need specialized equipment that fits tighter spaces. Usually we install polished concrete in industrial spaces, and business.
To get a better idea of ​​how much you can expect to pay for polished concrete flooring, you can ask your trusted contractor, like Canadian Concrete Surfaces for an estimate.
How Canadian Concrete Surfaces Can Help You!
As an industry leader with more than 25 years of experience in epoxy flooring and concrete coatings or decorative surfaces. Canadian Concrete Surfaces offers affordable and high-quality solutions for those who want this type of flooring for their properties. You can read up on our 5-Star Google Reviews here.

We take pride in offering high-performance polished concrete floors to all Canadians, with solutions that fit any budget and adapt to our clients' requirements.

Frequently Asked Questions
Are Polished Concrete Floors Slippery?
While these surfaces look as smooth as glass, they're completely safe to walk on if clean and dry.
Can You Handle a Polishing Concrete Project Yourself?
Polishing concrete projects requires a high level of experience and specialized equipment. Therefore, you shouldn't handle them yourself but ask for help from reputable and seasoned contractors.
Do Polished Concrete Floors Require Professional Maintenance?
No, they don't! Actually, these floors require little maintenance to preserve their distinctive shine and are highly durable.
Devon has over 25 years of experience providing customers with high performance epoxy flooring to fit any need or budget. Referrals are our best friend and customer satisfaction is always our top priority. When Devon is not working you can find him fishing, or hunting across North America.